New for 2014, our very affordable and very versatile, Simon 2
This product comes free with the purchase of some applicable software. 
The Active Autowerke performance software is sold separately from the SIMON 2 tool. 


This tuning tool is what you have been waiting for
  Program has detailed instructions and is easy to use.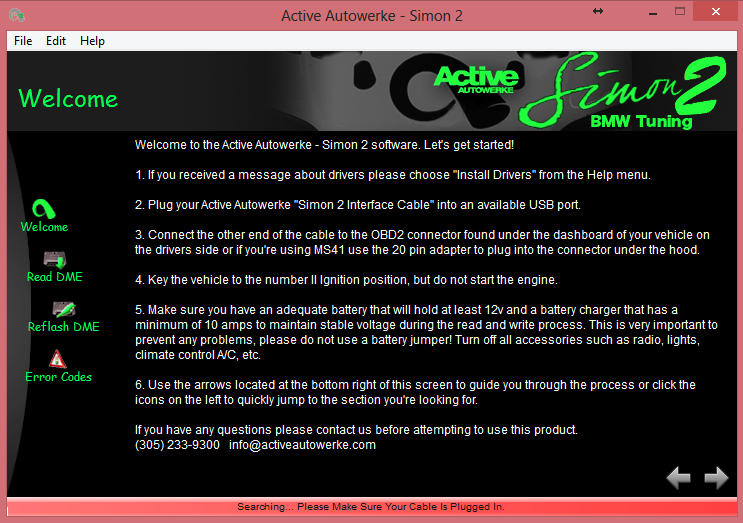 Click below to download the Simon2 program, absolutely free, and take a look around:
Requirements: internet access, PC or MAC laptop and a battery charger 
Currently available for:
E53 X5 3.0i (2001-2006 with M54 engine MS43 DME)
E46 323i-328i (1999-200 with M52 TU engine MS42 DME)
E46 325i-330i (2001-2002 only with M54 engine MS43 DME)
E46 M3 (2001-2003 MSS54, 2004-2006 MSS54HP S54 engine)
E36/7 Z3 2.8 (1997 -mid 1998 M52 engine MS41, 1998 mid to 2000 M52 TU engine MS42)
E36/7 Z3 2.5-3.0 (2001-2002 M54 engine with MS43)
E36 323-328 (M52 engine MS41)
E36 M3 *and most non-M (S52 engine US only MS41 ECU)
E39 528i (1997-mid 1998 M52 engine MS41, mid 1998-2000 M52 TU engine with MS42 DME)
E39 525i-530i (2001-2003 M54 engine MS43 DME)
E39 M5 (2000-2003 S62 engine with MS52 DME)
A more expanded library of applications to come!
Please call our sales consultant for more information.
800-830-3596
Our original Simon is still relevant for all other applications.
*US model M3 only
Click Below for the Simon2 Data Logger
---
*If you are aquiring the Simon2 for an E36, please select the option "E36 | Includes Adapter" from the "Model" drop down menu to receive this neccessary adapter at no extra cost.