PRIMA: A LEADER AMONG EQUALS
***Before your order ships you MUST sign and return the Off Road Use Only Waiver available HERE. Please email, fax or take a photo of the completed form. You can email it to your sales rep or to info@activeautowerke.com and you can fax it to us at (305) 253-8921***
In collaboration with Frank Smith of TuningTechFS, the Active Autowerke PRIMA supercharger kit has gained a reputation as one of the finest and most affordable systems available for the E46 BMW M3. Capable of exceeding 500 WHP through Level 1 and Level 2 upgrades, PRIMA is a star performer.
This supercharger system was designed with no frills in mind instead focusing on the pure and basic fundamentals. PRIMA is a fully bolt-on non-intercooled system that is completely reversible and DOES NOT require any custom fabrication. For those who desire some extra horsepower, the PRIMA system is fully upgradable via Level 1 and Level 2 options. With an outstanding design synonymous with the Active Autowerke brand, we have made our finest forced-induction kit even more affordable; all while maintaining the inherent driver-centric qualities of the BMW M3.
PRIMA SUPERCHARGER KIT KEY FEATURES:
Rotrex C38-92 Supercharger System
Active Autowerke GEN 9 Intake Manifold plenum
Active Autowerke DOUBLE Blow-off Valve Set-up
Active Autowerke Green Filter & Filter Cover
Alpha N Software tune w/SIMON 2 interface included
High Capacity Fuel Injectors
Colder Heat Range Spark Plugs
Dedicated oil cooling system for maximum performance and reliability
All Hoses, Clamps, Etc. (pre-assembled)
Easily Upgradable to Either Level 1 or 2 System
BASE PRIMA SUPERCHARGER DYNOJET RESULTS
Boost: 5.8 psi
Stock Horsepower: 285.4 WHP @ 7500 RPM
Stock Torque: 232.36 LB-FT @ 5250 RPM
Supercharged Horsepower: 426.69 WHP @ 8150 RPM
Supercharged Torque: 297.99 LB-FT @ 7200 RPM
WHY THE PRIMA SUPERCHARGER KIT FOR YOUR E46 BMW M3?
Since BMW ceased production of the E46 BMW M3 in June 2006, it has become one of the most coveted models to enhance with various performance modifications. One of the more popular upgrades to date has been the addition of a supercharger system like PRIMA, capable of creating over 600 horsepower to the rear wheels.
As newer iterations of the M3 are introduced, past generations like the E46 invite a whole new community of BMW owners seeking performance modifications relative to the car's value. This translates to reduced expense on Active Autowerke supercharger components, making it the perfect time for an entry level supercharger system.
Simply put, not much compares to a PRIMA-supercharged E46 M3 when it comes to bang for your performance-vehicle buck.
CAN I RUN PRIMA WITHOUT AN INTERCOOLER?
YES! In the past, running this kit without an intercooler would have been considered suicidal due to the extremely high 11.5:1 compression of the S54 engine. Thankfully, through years of product development, testing, and tuning of supercharger applications with this motor, PRIMA kit and associated software have undergone changes to successfully and safely marry the S54's stock motor with the rigors of a boosted application.
WHY USE ACTIVE AUTOWERKE?
Guarantee Active Autowerke guarantees the quality of our BMW performance products; some of which surpass the performance industry standard. Combining a quality product with exceptional customer service are two of the core values we practice every day.
Longevityu00a0Our 30+ years of experience working and wrenching on BMWs is a true testament to what Active Autowerke is all about. With thousands of superchargers already sold, and many used or pre-owned kits already transferred to new cars and owners; consumers are ensured piece of mind knowing they can trust a company that continues to support systems that are 10+ years old.
E46 BMW M3 PRIMA DYNO RESULTS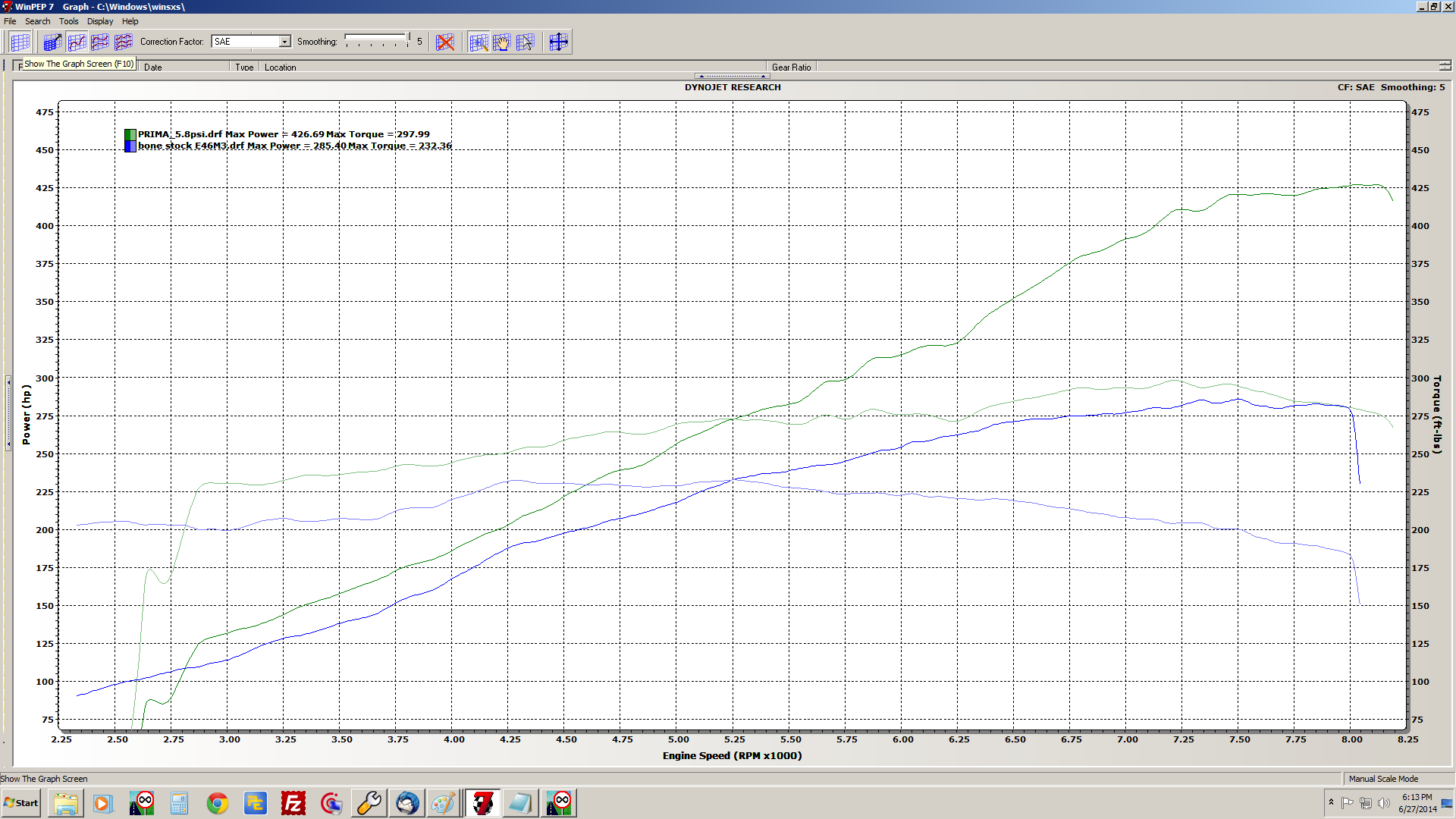 Ask Us About The PRIMA Plus! Check Out The Difference Below:
Please Note All Supercharger Kits May Take Up To 6 Weeks To Ship due to Blower availability. Please Call To Confirm Status.
DOWNLOAD INSTALLATION INSTRUCTIONS: